Horseback Riding Adventure
Ocho Rios Highlight Tours Jamaica.
---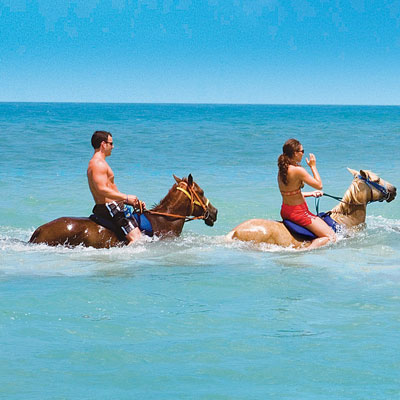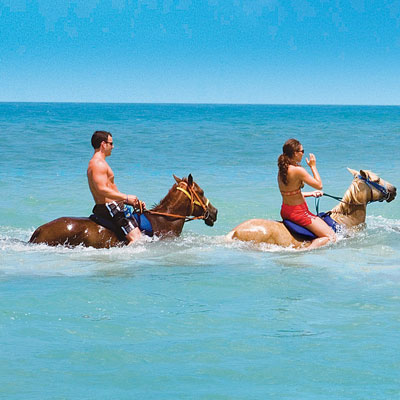 Horseback Riding Adventure Ocho Rios Jamaica
When choosing Ocho Rios as your resort destination, there is a lot to do around the area, especially Horseback Riding along the beach. Ride into the historic St. Ann. Ride through two of Jamaica's oldest estates, Richmond and Llandovery. Saddle up for an amazing ride along Papillion Cove where the movie was shot in 1973 and locations where "Return to Treasure Island - 1985" and "Passion and Paradise - 1988" were also filmed. Then, feel the surge of real horsepower and waves of excitement as you ride into the warmth of the Caribbean Sea atop your trusty horse. No experience needed. Our well-trained horses and attentive guides will ensure you enjoy the best horseback riding experience in Jamaica. We can provide you with roundtrip transportation only or Package rate which cover horseback riding fee wherever you stay in Ocho Rios or Runaway Bay.
Instruction: *Fully guided. *Minimum age: 6 *Maximum weight: 220 lbs *No wheelchair accessible. *Not accessible to pregnant women.
You will choose the Booking form according to your location, either at a Hotel, Private House, Village or Coming on a cruise ship.
Tour Highlights:

Tour can be combine with other attraction
Sightseeing stop for photos
Lunch stop at Local Restaurant
Bring watershoe, swim suit, towels

The prices below are for transportation and Package. Choose the hotel location to match prices.

| Hotels/Cruise Port | I-4 Persons / Not Per-Person | 5 & Up Per-Person | Package Rate per-person |
| --- | --- | --- | --- |
| Montego Bay | US$190.00 | US$40.00 | US$120.00 per-person / 4 persons up |
| Ocho Rios | US$140.00 | US$30.00 | US$110.00 per-person / 4 persons up |
| Falmouth | US$190.00 | US$40.00 | US$120.00 per-person / 4 persons up |
| Grand Palladium | US$200.00 | US$45.00 | US$125.00 per-person / 4 persons up |
| Negril | US$240.00 | US$50.00 | US$130.00 per-person / 4 persons up |
| Rose Hall Hotels | US$190.00 | US$45.00 | US$125.00 per-person / 4 persons up |
| Runaway Bay | US$150.00 | US$35.00 | US$115.00 per-person / 4 persons up |

---
---