Hooves Horseback Riding Adventure
Ocho Rios Highlight Tours Jamaica.
---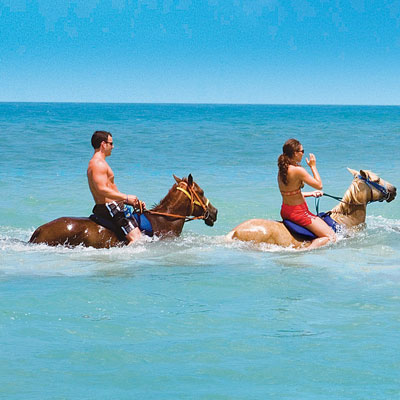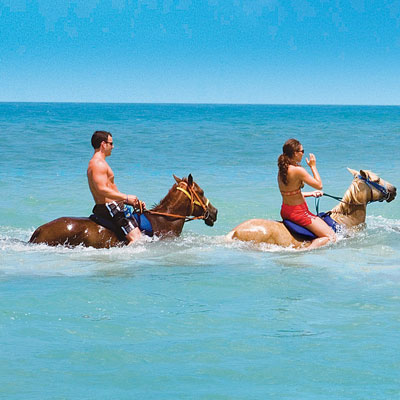 Hooves Horseback Riding Adventure Ocho Rios Jamaica
When choosing Ocho Rios as your resort destination, there is a lot to do around the area, especially Horseback Riding along the beach, in the water or through historically places. After mounting up your adventure begins as you are guided around St Ann's Bay Heritage Sites. Passing the site of a Taino village, the trail leads you through a tropical rain forest where your guide will point out various tropical trees and herbal remedy plants, passing you a leaf or two to try and guess the spices. You will see the preserved ruins of a sugar mill recently found and excavated. Out in the open now you will ride down the first main street in the new world where some 26 substantial houses were built by the Spanish and called Nueva Seville. On the way you pass the remains of the water distribution system for the houses, then before plunging into the forest again a look at the remains of the largest house called "The Castle" and see the well and the food storage holes the ground. Along a windy trail with tall trees on either side look out for land crabs scuttling away in the bushes, and then, all of a sudden a fresh sea breeze and the beach.
You will choose the Booking form according to your location, either at a Hotel, Private House, Village or Coming on a cruise ship.
Tour Highlights:

Tour can be combine with other attraction
Sightseeing stop for photos
Lunch stop at Local Restaurant
Bring watershoe, swim suit, towels

The prices below are for transportation and Package. Choose the hotel location to match prices.

| Hotels/Cruise Port | I-4 Persons / Not Per-Person | 5 & Up Per-Person | Package Rate per-person |
| --- | --- | --- | --- |
| Montego Bay | US$190.00 | US$40.00 | US$110.00 per-person / 4 persons up |
| Ocho Rios | US$120.00 | US$30.00 | US$100.00 per-person / 4 persons up |
| Falmouth | US$190.00 | US$40.00 | US$1100.00 per-person / 4 persons up |
| Grand Palladium | US$240.00 | US$45.00 | US$115.00 per-person / 4 persons up |
| Negril | US$260.00 | US$50.00 | US$75.00 per-person / 4 persons up |
| Rose Hall Hotels | US$200.00 | US$45.00 | US$65.00 per-person / 4 persons up |
| Runaway Bay | US$170.00 | US$35.00 | US$55.00 per-person / 4 persons up |

---
---