Martha Brae River Rafting Falmouth
Falmouth Tours Jamaica.
---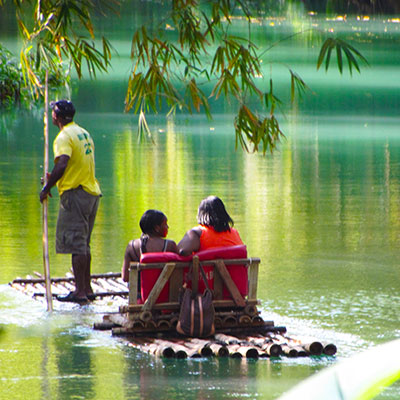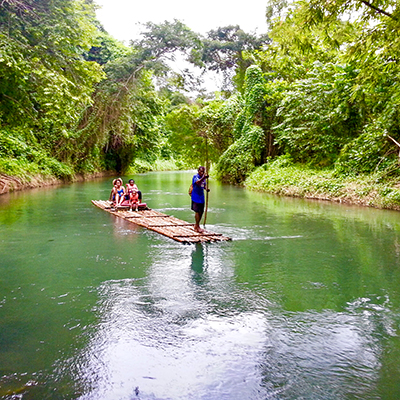 Martha Brae River Rafting Falmouth Jamaica
Martha Brae Famous River, the island's #1 rafting attraction is located approximately three miles inland from the town of Falmouth, birthplace of one of Jamaica's former Prime Minister, Hugh Shearer. The attraction is a mere twenty miles from Montego Bay and forty miles from Ocho Rios. Martha Brae's Rafters Village offers the best river-rafting experience in and around this popular resort. You sit on a raised dais on bamboo logs and watch the river scenery unfold. You can customize this tour by adding more attraction and place like: Rose Hall Great House, Greenwood Great House, Doctor's Cave Beach, Hip Strip, and more.
You will choose the Booking form according to your location, either at a Hotel, Private House, Village or Coming on a cruise ship.
Tour Highlights:

Tour can be combine with other attraction
Sightseeing stop for photos
Lunch stop at Local Restaurant

The prices below are for transportation only and package rates. Choose the hotel location to match prices.

| Hotels/Cruise Port | I-4 Persons / Not Per-Person | 5 & Up Per-Person | Package Rate per-person |
| --- | --- | --- | --- |
| Montego Bay | US$160.00 | US$35.00 | US$75.00 per-person / 4 persons up |
| Ocho Rios | US$190.00 | US$40.00 | US$85.00 per-person / 4 persons up |
| Falmouth | US$100.00 | US$25.00 | US$55.00 per-person / 4 persons up |
| Grand Palladium | US$200.00 | US$40.00 | US$85.00 per-person / 4 persons up |
| Negril | US$220.00 | US$45.00 | US$90.00 per-person / 4 persons up |
| Rose Hall Hotels | US$140.00 | US$25.00 | US$55.00 per-person / 4 persons up |
| Runaway Bay | US$170.00 | US$40.00 | US$85.00 per-person / 4 persons up |

---
---