Rhodes Hall Horseback Ride
Negril Highlight Tours Jamaica.
---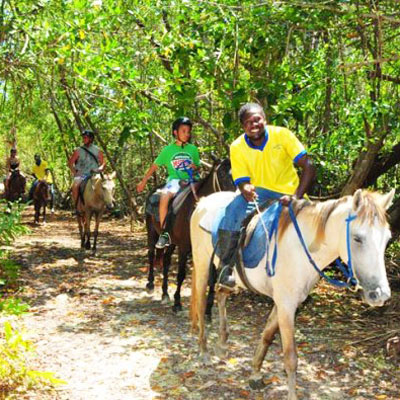 Rhodes Hall Horseback Ride Negril Jamaica
As we take you to Rhodes Hall Horseback Riding, they will take deep into the interior where you will find a wide variety of fruit trees and plants indigenous to Jamaica. Enjoy a cool drink of coconut water (when in season) as you travel through the beautiful and lush flora with a backdrop of our Big Mountain. You'll visit the fish ponds then ride along the shore or wade across the Rhodes Mineral Spring Beach on your way to our famous mangrove and crocodile reserve, where you will meet "Moses", one of our friendly crocodiles. Our well trained guides will identify variety of herbal plants and flowers as you go bird watching and just when you thought the tour has ended experience a once in a lifetime moment of swimming on horseback in our mineral spring beach and absorb its healing powers. We will provide you with roundtrip transportation from your hotels/resort to the location. The prices below will include transportation or package which include both fees.
You will choose the Booking form according to your location, either at a Hotel, Private House, Village or Coming on a cruise ship.
Tour Highlights:

Tour can be combine with other attraction
Sightseeing stop for photos
Lunch stop at Local Restaurant
Bring watershoe, swim suites

The prices below are for transportation and Package. Choose the hotel location to match prices.

| Hotels/Cruise Port | I-4 Persons / Not Per-Person | 5 & Up Per-Person | Package Rate 4 persons & up |
| --- | --- | --- | --- |
| Montego Bay | US$160.00 | US$40.00 | US$110.00 per-person / 4 persons up |
| Ocho Rios | US$260.00 | US$65.00 | US$135.00 per-person / 4 persons up |
| Falmouth | US$220.00 | US$55.00 | US$125.00 per-person / 4 persons up |
| Grand Palladium | US$120.00 | US$30.00 | US$100.00 per-person / 4 persons up |
| Negril | US$100.00 | US$25.00 | US$95.00 per-person / 4 persons up |
| Rose Hall Hotels | US$200.00 | US$50.00 | US$120.00 per-person / 4 persons up |
| Runaway Bay | US$240.00 | US$60.00 | US$130.00 per-person / 4 persons up |

---
---