YS Falls South Coast
St Elizabeth Highlight Tours Jamaica.
---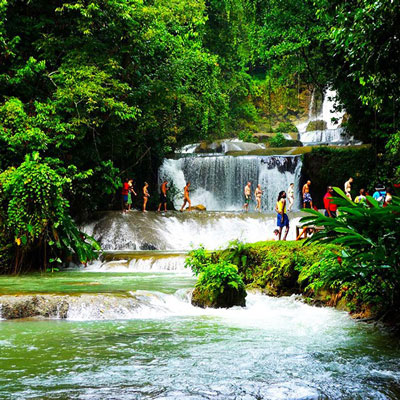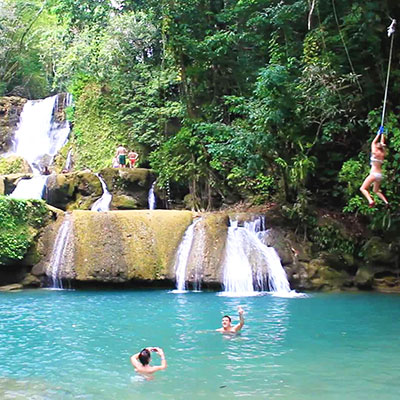 YS Falls South Coast St Elizabeth Jamaica
The beautiful YS Falls opened in 1990. It is a nature-based attraction offering the opportunity to experience the beauty of the waterfalls surrounded by flora and fauna, many indigenous to the area There are seven waterfalls, several which cascade into natural pools. Some areas are fairly rocky and do not allow swimming. You will experience a 10-minute tractor ride which will take you up to the waterfalls. The scenery on the way up to the waterfalls is absolutely beautiful! You will get stunning views of mountains, lush fields with horses, and ride along the beautiful river. The tractor will drop you off by the gift shop and this is where you decide on what you want to do at YS Falls. You can do Zipline Canopy There as well. We will provide you with roundtrip transportation from your hotels/resort to the YS Falls location. The prices below will include transportation or package which include fee.
You will choose the Booking form according to your location, either at a Hotel, Private House, Village or Coming on a cruise ship.
Tour Highlights:

Tour can be combine with other attraction
Sightseeing stop for photos
Lunch stop at Local Restaurant
Bring watershoe, swim suit, towels

The prices below are for transportation only and package rates. Choose the hotel location to match prices.

| Hotels/Cruise Port | I-4 Persons / Not Per-Person | 5 & Up Per-Person | Package Rate per-person |
| --- | --- | --- | --- |
| Montego Bay | US$240.00 | US$60.00 | US$80.00 per-person / 4 persons up |
| Ocho Rios | US$280.00 | US$70.00 | US$90.00 per-person / 4 persons up |
| Falmouth | US$250.00 | US$65.00 | US$85.00 per-person / 4 persons up |
| Grand Palladium | US$200.00 | US$50.00 | US$70.00 per-person / 4 persons up |
| Negril | US$200.00 | US$50.00 | US$70.00 per-person / 4 persons up |
| Rose Hall Hotels | US$240.00 | US$60.00 | US$80.00 per-person / 4 persons up |
| Runaway Bay | US$270.00 | US$55.00 | US$75.00 per-person / 4 persons up |

---
---